Psychotherapy
I provide individual and group counseling to people 12 years old and up.  My general philosophy is "Whatever works!". I will get to know you before prescribing a course of treatment.  Then, together we will work to bring you more into harmony with yourself and the world around you.  Because I am also a yoga and meditation teacher and have trained in various Eastern disciplines, I encourage people to explore their whole selves – body, mind and spirit, though only if they choose to.  I incorporate mindfulness, Cognitive Behavior Therapy, play, and humor as appropriate.  I am open to new ideas as well, and believe that I can only help you if I check my judgments at the door.  I will help you understand why you are suffering as well as expose you to a variety of tools so that you can handle life's situations more gracefully.
My Media office is also my yoga studio and people have described it as "healing", "comfortable" and "sacred".
*At this time I can only accept private pay clients.  My fee is $80 per session.  I have a sliding scale based on need.
———————————————————————————————————————-
"Yoga is the Practice of tolerating the consequences of being yourself"  Baghavad Gita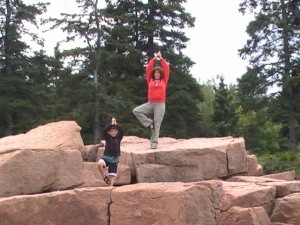 Yoga
All my classes are gentle Hatha Yoga and are appropriate for any level of practitioner.  Whether you suffer from anxiety or seek relief from chronic pain, yoga can be a part of your healing process.  Classes are held several times weekly in my Media studio.  I also teach Chair Yoga to seniors at the Ivy Residence and a gentle yoga class to adults in East Falls.  I am available to teach on an individual basis and am open to coming to your home and teaching individuals or groups.  Contact me for prices.  Namaste!
Meditation
I currently work with the Inner Strength Foundation (innerstrength.com ) teaching teens at the Masterman School in Philadelphia.  In addition I recently began teaching  what I like to call "Meditation 101" out of my studio.  This 8 week module invites students to learn about themselves while being exposed to a variety of meditation techniques.  They are encouraged to develop a small weekly practice as they come to understand which techniques are most accessible at this time.  Please contact me to learn about upcoming availability.  
I also coach individuals who would like to start meditating but may not be ready to join a group.